---
Canada

Calgary
We landed in Calgary in the afternoon and picked up our rental car. Our hotel was right in the centre of town, looking down over a main street, but the city was really quiet, compared to London anyway. We went for a beer in a bar nearby and had the hottest chicken wings I've ever tasted. Calgary Tower was right next to the bar so we went up to the top, 200 metres high. It had a glass floor that looked down over the tiny people and cars way down below. We watched the sunset from there and it was a crazy red colour. Canada had lots of wild fires at the time so the air was very hazy, but you could still see for a long way. The next morning we were jet lagged and got up early. We had huge bowls of egg and spinach and bacon for breakfast, which were so filling we though we'd probably ruined our appetite for the whole holiday.


It was a weekend and the city was really quiet, but the sun was very bright. We lugged ourselves back to the hotel along raised walkways which they built because it gets so cold in winter. We packed the car and started driving to Banff, which took about 2 hours.
It was flat at first, but pretty soon the mountains came into view. we entered through the Banff National Park gates and were given free entry because Canada is 150 years old this year. 150 is not that old for a country but we took the free entry anyway.



Banff
We arrived in Banff in the afternoon, after stopping a few miles away at a bright green lake that I can't remember the name of. It was incredibly windy but the sun was really warm. We walked around the lake looking for fish but there didn't seem to be any, maybe because it was full of algae or something. We then drove into Banff and went straight up to the cable car which (after we waited a while eating ice cream with lots of Chinese people) took us up to the top of the mountains overlooking Banff. The view was unbelievable, mountains on every side. We followed a long wooden walkway with about a million steps to an old weather observation tower that some extreme Victorian people had lived in. There were lots of little Canadian squirrels running around all over the place, they weren't shy at all and people were picking them up. As soon as they saw you didn't have biscuits they jumped off though.

We spent a couple of hours at the top before we decided to head down and find our hotel. It was a huge cabin style building tucked into the forest, looking over the valley at the mountains we'd just been at the top of. I'd recently bought an infrared filter for my camera that filters out pretty much all the light we can see. I'd heard that living things reflect a lot of infrared light, so it worked out well because Canada is basically nature central.


That evening we walked along the road into town and found a bar, where we ate poutine and drank beers. Poutine is the Canadian national dish, they are really proud of it. It's actually just chips, cheese and gravy. I used to eat that after nights out in Sheffield, and it is nothing to be proud of. We walked around Banff, which was kind of disappointing. It was really busy with tourists and the town is actually made up of a few blocks of mostly tourist stores. We were still pretty jet lagged so decided to walk back to the hotel, which took us over a train track. As we approached it the bell started ringing and we saw a double decker freight train in the distance. I was stood way too close to the track when it passed and the wind it carried nearly knocked me over. After it had gone we walked through the forest to our hotel, past a creepy guy on the roof of the old beat up Land Rover he was living out of. He said a bunch of mad stuff about bears and London and offered us some weed but we decided to give it a miss and carried on walking.
Lake Louise


Lake Louise is one of the most popular tourist destinations in the world (probably), so we got up and drove there really early. We arrived at around 7am and parked in the closest of about 6 car parks, which was still empty apart from a few RVs in the corner. We walked down to the shoreline through trees and then saw the lake. The water is light blue, surrounded on every side by huge mountains, some of which were still covered in snow even thought it was August.The only building for miles around is a huge hotel built in a North American pastiche of something old and European.




A few years ago my sister moved there to work and stayed there for a while. I realised how far away she had been and felt proud. We stood for a while looking out onto the lake, pretty much silent. It was before sunrise but the light was clear. We'd dressed for summer though and it was cold without the sun. Gradually more people started arriving. A lady in a red dress made her husband do a photoshoot, she looked awesome and stupid at the same time, which I think he knew. We saw a path going around the lake and decided to see where it went
Six Glaciers Trail


We walked along the path around the lake, it was still early so there was nobody else around. When we looked back we saw the sun starting to rise. It started getting warmer so we decided to carry on, even though we'd had no breakfast. We kept on walking until we reached the end of the lake. Actually it was the start, where all the glacier water runs down from the mountains. A sign told us that the Six Glaciers Trail started there, and that it was 5.5km to a tea house. We decided that 5.5km wasn't very far and we started walking. After a while the lake disappeared, replaced by fir trees which blocked out most of the light. The path got much steeper, but we were walking fast and enjoying the adventure. It was around this point that we started feeling like a grizzly bear was about to reveal itself and that we were definitely going to be eaten. We later learned that this is a normal feeling in Canada, and it stayed with us all the way to Vancouver.

The path led us up above the trees and around a wide bend that took us out of sight of the lake. The glacier had carved a wide valley out from the mountains and everywhere we looked there were rocks that had been smashed by the ice. The only sound was the wind and an occasional bird. You're supposed to be really loud to let the bears know you're there, but we didn't know that yet. We hadn't seen anyone else since leaving the lake, which we felt proud and a little nervous about. We were up pretty high by this point and wondered if we would ever even find the tea house at the top. Then about 100 metres in front of us we saw two women walking. One of them had a false leg so they were moving quite slowly. I said 'good work' to her when we walked by, then wondered if I shouldn't have.




When we got to the top of the trail we found the tea house. It was a red log cabin tucked into the side of a forest. A black dog barked at us and wagged its tail as we got near. We climbed a ladder to the balcony and spoke to the girl who worked there. They stayed for a week at a time and then went back down, taking turns to bring up supplies by horse when they returned. We drank black coffee and ate big cheese and pickle sandwiches and bowls of mountain vegetable soup. I think it might have been the best meal I've ever eaten. As soon as we'd finished I felt like I was going to fall asleep.

After a while we started walking back down the path towards the lake. At first we didn't see anyone, but eventually more and more people started walking up the trail. We were in trainers and t-shirts but the people coming up the hill were decked out in brightly coloured mountain clothes. Fair play to Millets but it wasn't necessary. We eventually got back to the lake and found the car. We drove to Lake Moraine, which was an even brighter blue colour, but by now we were pretty much exhausted, so we bought two hot coffees and a twix for fifteen dollars from the tourist shop and got on the road to Revelstoke.

Revelstoke



The drive from Lake Louise to Revelstoke started out along a two lane highway. As we drove, the mountains started getting smaller and the forest thicker. We listened to a podcast about an eccentric hillbilly from Alabama and it made us feel like we were a long way from anywhere. The roads started switching constantly from two lanes to one, often with no barrier in the middle. Driving at motorway speeds with no barrier between you and the oncoming traffic makes it hard to relax into the driving. The scenery was incredible though, the roads twisted through the mountains and hills, sometimes dropping steeply downhill as we descended from the Canadian Rockies into British Columbia. After an hour or so we saw a sign for a city called Golden. We thought that sounded pretty nice so decided to stop there for a snack and a short break. I had some coffee and a donut from a place called Tim Hortons, which is a big deal in Canada, each to their own.

We were booked in for two nights at a hotel in a skiing town overlooked by Mount Revelstoke. Hundreds of rooms looked directly out onto the cable car which took you to the top of the hill. At first we wondered if Revelstoke had much to offer us, it's a small town, and was very much out of season. Within a few minutes though we realised that the scenery and sunshine made this a good place to relax and explore for a couple of days. We had food and beers on a balcony overlooking the valley and it was peaceful.

The next morning we drove to Mount Revelstoke. The road up the mountain is long and winding. The whole way up there are lookout points and warning signs about the grizzlies that like it there. We parked at the top and got out to explore. We walked around a small lake surrounded by big trees and found a trail that led to the top of the mountain. Following it until we were far away from the road, deep in the forest, we came to a clearing that looked out over the whole area. It was the quietest place I've ever been. The trees must have soaked up the sound, you couldn't hear anything, it felt like the silence was pressing into your ears. After following a few more trails, we made our way back to the town and had a walk around.






Whenever I'm in North America I imagine that I'm going to stumble upon old towns full of independent stores and wooden cinemas. In reality this has basically never happened, apart from in Revelstoke. The 'city' (it's a small town) is built on a grid, probably 10 blocks each way. In the middle there are little bookshops, cafes and hardware stores. We had Mexican food and beers and took some photos, before heading back for a drink at the hotel. I'd remembered that the next day there was going to be an eclipse across all of North America, so we decided that we'd go up to Mount Revelstoke again and watch from the top.

We got up early and rode the cable car to the top of the hill by the hotel, where we had breakfast. On the way back down we rode a monorail style rollercoaster that you ride strapped into a tray with a handbrake in between your legs. It went faster than I thought it would and the rocks lining the ground beneath the track looked quite head smashy, so I probably didn't go as fast as I could have. I don't think Darcy actually used the brake, but she's doing fine.

We drove up to Mount Revelstoke and watched the partial eclipse, sharing a pair of special science glasses. I used the infra red filter on my camera to take a few pictures, it was really hard to capture it, but there were lots of camera nerds there who didn't get shit so that made it ok. As the moon crossed the sun the light was still piercing, but in a subdued, blueish way that only seems to happen in an eclipse (this was my second one so I'm now pretty much an expert). After standing on the peak of the mountain for a while and following more bear baiting trails we went down into the town, had some coffee and decided to hit the road.
Kelowna


When I was really young, my uncle moved to Seattle to work for Microsoft. A few years later, a combination of innate genius and excellent timing meant that he could stop working for anyone at all. He moved his family to a lakeside town called Kelowna, which is right in the middle of British Columbia, surrounded by hills and vineyards. We arrived there after a long drive from Revelstoke. On the way we got lost and saw a bit of small town Canada, which feels like small town Texas, lots of fast food and cheap motels and dust. As we drove we listened to some podcasts about science and some more about Alabama. We followed the Trans Canada Highway through the mountains and forests and mountains and forests and mountains and forests and found Kelowna in the early evening.

When we got there we were greeted by my Canadian family, who welcomed us into their home and fed us snacks and beer while we sat out by a fire in their garden. Their garden leads down directly onto the lake, where they have a boat tied up to the stumps of a dock that was washed away in a big storm the year before. Their dog Sam is like a tiny version of a golden retriever, a ridiculous animal but good company.

The next morning we went out on the boat. The sun was hot and we rode all the way along the lake to some cliffs, which I had decided I wasn't going to jump off because I enjoy using my legs. Darcy went quiet for a while and then said that she was going to do it. I could tell that she had made up her mind to test herself, which I realised is my favourite thing about her.





I also realised that if she was doing it I basically had to do it, so we jumped into the water and swam to the cliff edge. We climbed up a really dodgy rope and looked down from the top. From up there it looked much further down than we'd expected. More boats began to arrive as we stood at the top of the cliff. Darcy told me she didn't want to go first, so I got to the edge and knew I had to jump without hesitating. Whenever you cliff jump, time seems to slow down, you feel like you are in the air for a long time, even though it's only a few seconds. From the water below I shouted positive shit at Darcy for a while, but she looked like she'd had a change of heart. She almost jumped so many times, until the boatloads of people that had gathered started cheering and chanting for her to jump, which I imagine was not good fun for her. I started to worry about what we were going to do, climbing back down the cliff on the rope was definitely more dangerous than the jump. Without warning, she suddenly jumped off the edge, into the air and into the lake. Everybody cheered and we swam back to the boat, as always she had conquered the ting. We lay down at the front of the boat on the way back, basking in the heat and the wind and the view of the lake and hills.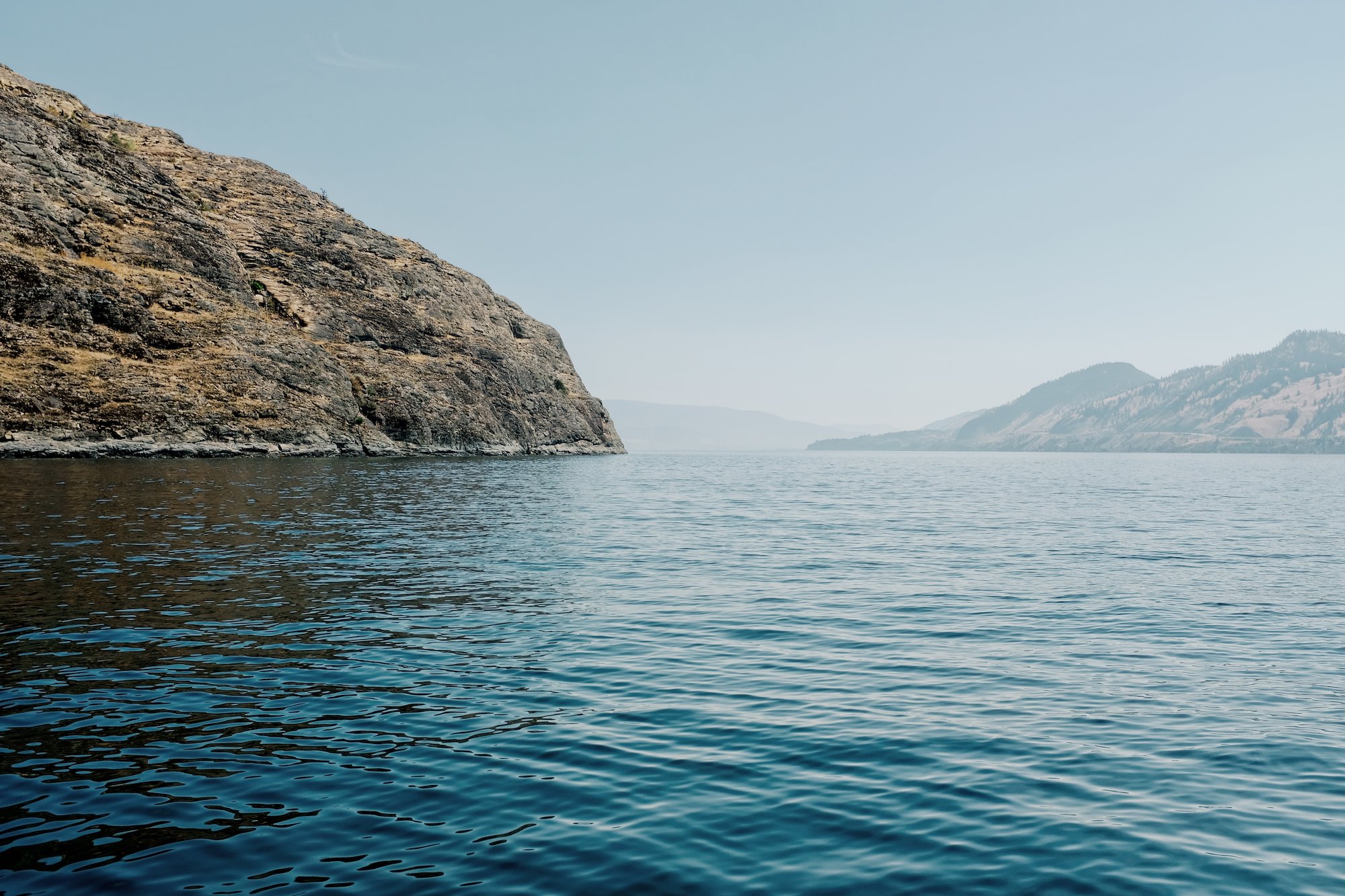 Kelowna
The next day, the wind had picked up a lot and the lake was rough. We had planned to go out on the boat but decided that we would walk up into the hills instead. We drove with my uncle through the town to a path that led up the side of a hill, which was covered in dry yellow grass that looked about ready to catch fire. At the bottom there was a woman on the floor who had come off her mountain bike, her leg was cut open and the bone was sticking out. The paramedics arrived and were chatting to each other while she lay on the ground. There wasn't anything we could do and the injury was terrifying so we kept going. We walked up the hill and along the lake for a few miles, until we found a small cove. I climbed down some rocks and jumped into the water, my uncle followed, but we couldn't persuade the dog.

That afternoon, we drove to four or five vineyards in the area and sampled a lot of wine. The sun was bright, and clouds were moving fast across the sky. Behind one of the hills a huge wild fire had started up. Canada seems to get a lot of them during summer and this one looked huge. My cousin was going camping with his friends in the area and he called us as he stood watching the flames from a hill nearby. He told his mum he was about to go out of signal but that he would be fine. She pretended not to be scared and said goodbye. The next morning he arrived home uncooked. We drank more wine and then made our way back to the house, where the sun was setting over the lake.We paddled kayaks along the edge of the lake and jumped in the water to swim, we'd had a lot of wine b

When we got up early the next day the surface of the lake was completely calm. We took the boat out, the air was cold and the sun had only just started to rise above the hills. I tried wakeboarding and did ok, the water was actually warmer than the air, which was good because I fell in a few times. We got back to the house and packed our things, ready for the drive to Vancouver. My family is very big and very spread out. I suppose I've only seen my Canadian family a handful of times in my life. We were sad to go because they had been so welcoming and generous and I knew that they would soon be very far away, but we had a long drive to Vancouver, so we packed the car and waved goodbye.

The road to Vancouver winds through huge hills and forests, which by this point was clearly not a surprise. I've always found it strange how quickly your brain adapts to new things. You can be looking forward to something for months, thinking about how huge those huge hills will be, then after a few days your brain just says 'oh yeah, huge hills, that's normal.' Then when you get back to normal life you think about those huge hills and you wish you had paid more attention to them while you could. About halfway to Vancouver we stopped at a place called Home, which was very much the classic Diner experience. We ate ten times more food than anyone should, then ordered a slice of cheesecake the size of a human head. We were so full we could hardly eat any but took it away because we felt stupid for having bought it. I put it straight in the bin outside when we left, hopefully some bear found it and had a good pudding that evening.
Vancouver
We had booked an Airbnb right in the centre, on the edge of Gastown, which is a cool name for a place. After a long drive, we turned off down a road that brought us all the way in from the freeway. We stopped at traffic lights on the way into the centre and tram cables dangled down above our heads. When we found our Airbnb it turned out that it was in the middle of some pretty hardcore homelessness, with everything that goes along with it. I've seen a bit of the West Coast and it s

The sun was setting over Vancouver Harbour and after drinking a bottle of wine we'd brought from Kelowna, we set out to find the ferry to take us to North Vancouver for the evening. We crossed the harbour on a sea ferry, the sunset reflected off the water and it was peaceful, nobody on the ferry was talking. I went up to the window and took pictures of the water which was orange and blue. We had drinks with some friends in a bar next to a market. They were old school friends of Darcy's who had moved there for an adventure and seemed really happy. We talked about the difference between here and there and how the seasons changed, then we made plans for the next day.

In the morning we rented bicycles from the hotel and spent the morning riding them around Stanley Park, which is a peninsula that sticks out into the harbour. The cycle path follows the sea wall all the way around the park for miles. We rode slowly in the sunshine, it was the end of a long road and we were aware of the fact that we'd be leaving the next day. After two or three hours we looked at a map and realised that we'd come much further than we thought, back along the opposite side of the peninsula and alongside the city for a while. We cut into it along a main road and saw some more of downtown Vancouver, where they have great patience for bad cycling.

That afternoon we took a bus across town to Kitsilano. We found a Chinese restaurant that served authentic Chinese food, hand pulled noodles and beef pastries. Once we were very full we walked down to Kitsilano Pool, which is a huge outdoor public pool. We lay like fat lizards in the sun, then I swam two lengths of the pool, which is far for an asthma boy. After a few hours in the sun, we had beers in a local bar and then caught the bus back to the city. That night we tried to find somewhere to watch a boxing match that we didn't really care about, then went out to a bar with Darcy's friends and ate and drank to celebrate the last night of our trip.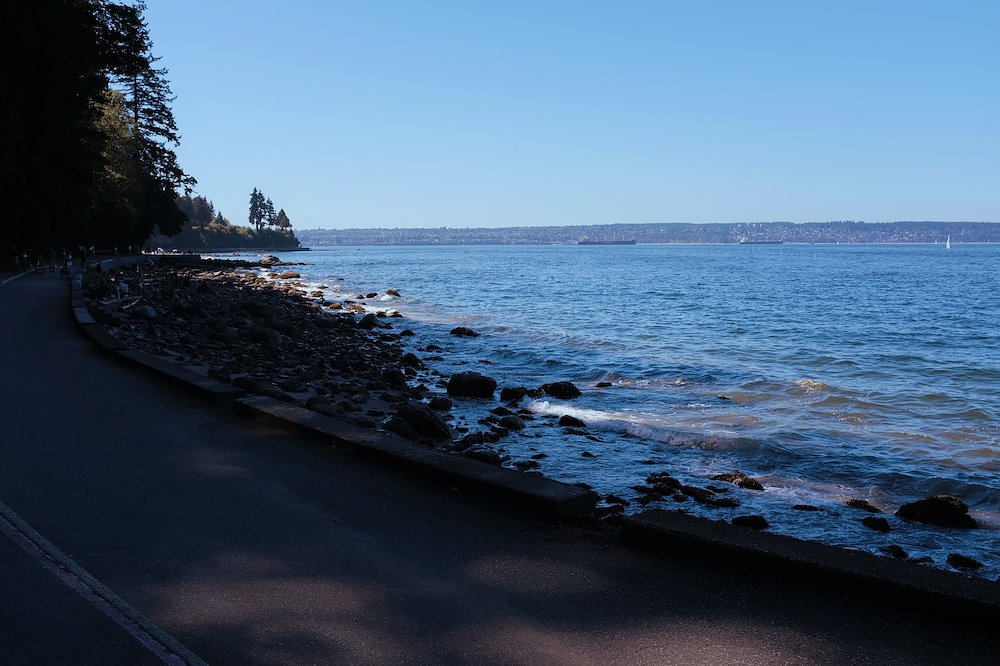 Vancouver

The next morning was brighter than ever. We walked from the harbour to Gastown, looking at the shops along the way. After we had breakfast Darcy bought something Canadian for her work people. The light was clear and it was hot so we found a bar and drank a beer sat in the sunshine. I saw someone run down an alleyway from a police car that wasn't c

We caught the train along the sea to the airport and ate some Canadian fast food. A football match was playing in the bar and we spoke to a guy who was watching it. He was English but his girlfriend lives in Canada so he travels over a lot. The flight back over Greenland and the Atlantic was calm and before long Darcy was asleep.